Are you sick of having multiple products in your bathroom drawer? Well, this body butter is multi-purpose – You can use it anywhere that needs hydration. It can be used as an all-over skin moisturiser, cuticle balm, lip balm, for cuts, scraps, and foot balm. You can even add some sugar or salt to use as a body exfoliate! You name it! I think you are going to love what it does for your skin.
This homemade body butter is a must-have – and honestly, the smell is amazing! The best thing? It is 100% natural, with no preservatives or chemicals. So you can be confident using it on you & your kids.
A body butter is made by combining solid and liquid oils. Basically, you can make body butter with any oils, as long as it is 25% liquid and 75% solid, with this recipe I chose to work with cocoa butter and shea butter as my solids, and apricot kernel oil as my liquid.
Cocoa Butter has a beautiful distinct scent – so yes, you will smell… delicious! I love working with cocoa butter as I feel I don't need to add any essential oils for smell, as it already smells amazing. It contains fatty acids which help to retain moisture and build elasticity and also has properties which can help ease dermatitis or rashes.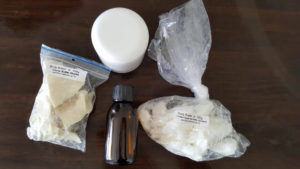 What you need:
Step One: I am using a double boiler to melt my oils – I boiled the water on the oven to boiling point and then removed and placed on my chopping board – The steam from the water will be enough to melt my solid butter. The cocoa butter can be quite hard so I recommend chopping them up into small pieces to make the melting process go a bit faster.
  
Step two: Once the butters have melted – add your apricot kernel oil. Then place into the freezer for about one hour – until the liquid has turned to semi-fluid. Not too soft, but not too hard it won't whip up!

Step Three: Whip until the oil turns into a thick cream-like consistently.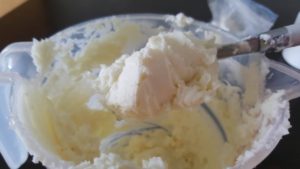 Step Four: Add to your containers – Done !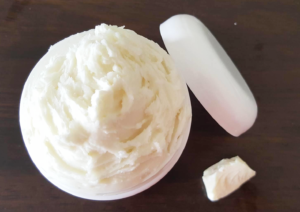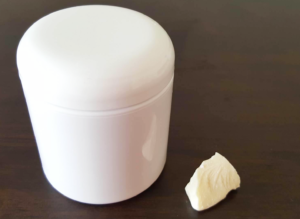 When you apply this body butter to your skin, it leaves a beautiful layer of oil, your skin will absorb. Your skin feels absolutely amazing and will stay moisturised for hours! I chose to keep mine in the fridge, as it will last for months!
Give it a try, we would love to hear your comments!