Fragrances are the reason why candles smell so good. Apart from adding aroma to candles, they also add to the experience – creating a relaxing atmosphere. Recently we conducted a fragrance survey to find out more about what scents people love to buy, and how they use them. Here's what you told us…
Fact 1: 
Out of our survey respondents, 78% of customers buy fragrance for use in candles, then for melts/soap/diffusers. This reaffirms our dedication and focus on bringing you the best quality fragrance oils specifically tested and approved for use in candles first and foremost.
Fact 2: 
You all purchase different sizes of bottles but there was a request for 250ml bottles – so watch this space!!
Fact 3:
When asked about the frequency of buying scents most of you said that you purchased monthly or whenever you run out! 
Fact 4:
Moving on to the most popular scents, a whopping 65% purchase fruity and floral scented oils, while 54% go for musk and woody scents. Earthy scents like sandalwood, sage and eucalyptus come third with 44%, perfume type scents come in at 32% and for the more specific times of year the festive and food & spice scents are at 36%.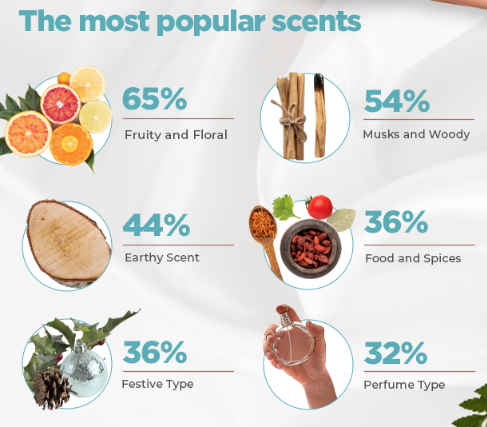 We also asked you what other scents you would like us top stock and we are compiling a list and will review these in 2024.
Fact 5:
We know what is important when selling a fragrance but we wanted to check if it was important to you and we are pleased to say that great minds think alike. When asked how you rated the importance of your fragrance being Plthalate free for example you gave us the thumbs up!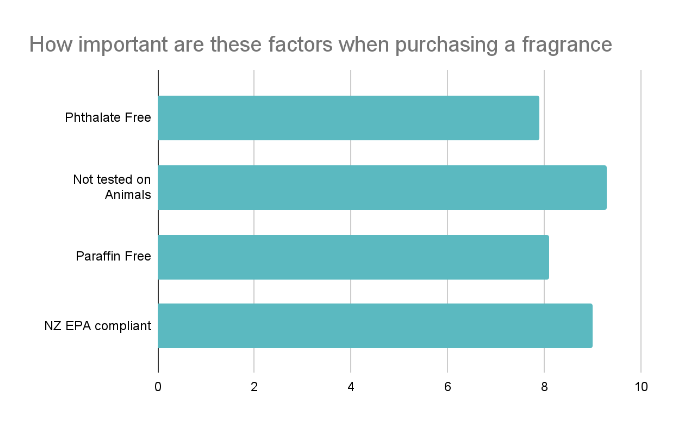 Fact 6:
Environmental Protection Agency Regulations – When asked if you knew what the EPA regulations were 55% of you did not know but 90% of you thought it was very important. So here is a quick run down…
The EPA is all about protecting the environment and enhancing a safe, healthy and sustainable way of life, and future, for all New Zealanders. This means that any supplier importing in products that come under their jurisdiction must comply with their guidelines. Fragrance is one of these and as a supplier we have to ensure that our fragrances are labeled correctly giving you the customer the right information and peace of mind that our product is safe for use and if an accident happens you would know what to do and who to call for help. We also have to ensure that we have all of the documentation available for customers should they wish to see it, this includes Safety Data Sheets and IFRA's.
Note: If you do not see the 'smallprint' on your fragrance bottle then it does not comply with the EPA. 
Fact 7:
When asked how important the following options are when buying a fragrance we can see that smell and quality outweigh price by quite a lot!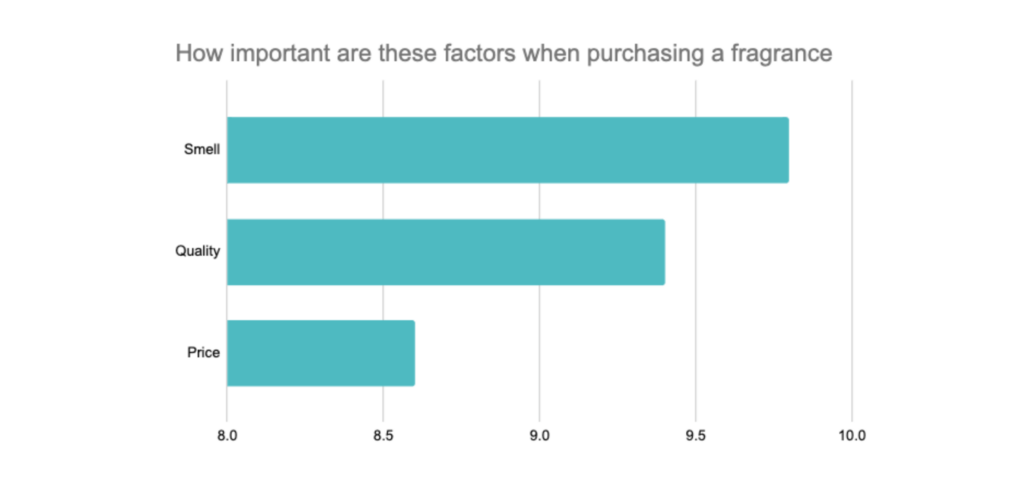 Thanks so much for taking the time to complete this survey to help us better understand what you love when it comes to candle scents. We look forward to fulfilling your order again soon.
Take a look at our infographic below: