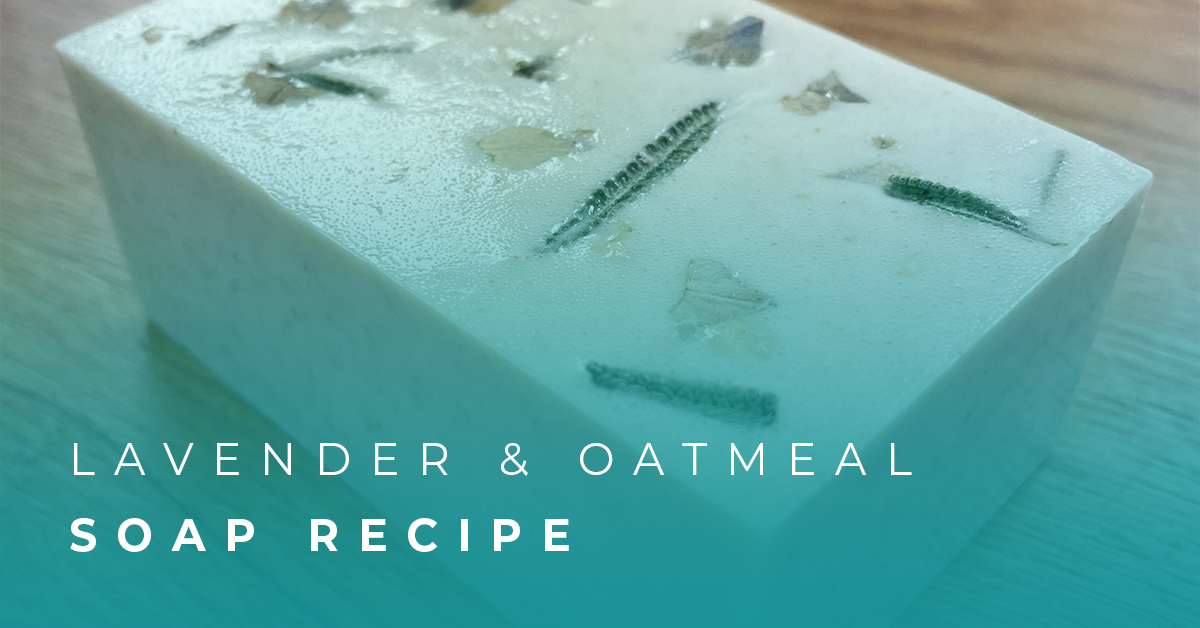 Nothing beats a beautiful handmade bar of soap, to use for either yourself or as a gorgeous gift for a loved one. With this recipe, you can create your own natural soaps that not only look and smell good but feel good too, with the gentle exfoliation that you will get from the oatmeal. Our Lavender, Honey & Oatmeal soap is super easy to make, and these will be a hit amongst your family and friends!
What you need:
470g of Melt & Pour Soap
Silicone soap mold
3/4 cup of oatmeal oats
10 drops of French Lavender Fragrance Oil
1 teaspoon of honey
3 tablespoons of dried lavender flowers
Step One: Chop up your block of soap into small 2cm cubes and place in a double boiler on the stove and heat until the soap starts to melt. Keep an eye on it & stir at intervals. There is no set heat temperature however it should not be steaming and should remain slightly viscous. If you plan to add fragrance do not heat the soap above 80°C.
You can also use a microwave but be sure to cover the container with cling wrap to prevent moisture from evaporating. Microwave on high for about 45 seconds & then stir. You want to get it to a point where you have small un-melted chunks left. If there are larger chunks after 45 seconds, microwave in small increments until there are only small chunks left. As all microwaves are different, keep a close eye on it during this process. Stir until all are melted, using the existing heat from the jug.
Step 2: Next, you want to get your ingredients ready to put into the soap. Pop the ¾ cup of oatmeal oats into a food processer and grind the oats for a few seconds so that you end up with finer, smaller pieces.
Step 3: Once your soap has fully melted you can turn off your stovetop or remove your jar from the microwave. You then want to stir in your teaspoon of honey and give it a quick mix through. Then add your cup of oats to the mixture and stir thoroughly.
Step 4: Time to get your lavender on! Add in your three tablespoons of dried lavender flowers as well as ten drops of French Lavender Fragrance Oil. Give your mixture another stir. (If you do not fancy having the dried lavender through your soap, you can always sprinkle it onto the top of your soap after you have poured it into the mold).
Step 5: Finally, you can pour your soap into your molds. Spray the tops of your soap with rubbing alcohol to disperse any bubbles that form. Leave your soap to dry.
After a couple of hours depending on the ambient temperature, your soap will be ready for demoulding. Turn the mould over and gently apply pressure to the back of the mould, pushing in different areas until the soap is released. If the soap will not release, place the mould in the freezer for up to 1-hour. The soap should then pop out easily.
Store your soap appropriately to avoid sweating, discolouring, and losing its moisturizing properties. For short term storage wrap in cling film. For long term storage using shrink wrap on your soap is advised.
Take a look at Our Melt 'n' Pour Soap Range
We searched the planet to find you the most natural Melt and Pour soap available. This quality glycerin soap is made the old-fashioned way and adjusted for crafters' use. All of our melt and pour bases are uncolored and unscented, ready for your additions such as fragrance, colors, essential oils, butters, exfoliants etc.We have a wide range of Melt 'n' Pour Soaps from Cocoa Butter, Goat's Milk to Shaving Soap.
Take a look and let's get craftying!